Regular price
Sale price
£34.00 GBP
Unit price
per
Sale
Sold out
Introducing our "Calm Oasis Mala"! This comforting pet accessory is designed to alleviate agitation, restlessness, and nighttime anxiety, creating a peaceful haven for your pet's mind.
Howlite, the clever little sidekick, acts as a helpful guidebook, teaching new tricks and keeping your pet's mind sharp. It's the gentle teacher who excels at calming down and unraveling the ropes of patience, reducing stress, and bringing peace to their playful mind. Howlite becomes their mood translator, assisting in expressing their heart's language more fluently.
Then comes Jasper, who is a friendly reminder that life keeps its wagging rhythm. This special gem works its magic, whisking away that jumpy feeling and cocooning your pet in a cozy, secure embrace. Jasper blankets them in joy, bringing forth cheerful and hopeful vibes, akin to having their personal happiness coach, spreading around joy and wag-tastic vibes.
This Mala is their very own Calm Oasis, paving the way for tranquility and joyful vibes in their world. 🐾✨
To measure the neck size accurately:
Place a soft tape measure around your pet's neck where the collar typically sits, allowing it to rest loosely.
Ensure there's enough space by sliding two fingers between the dog's neck and the measuring tape. This helps maintain a snug yet comfortable fit for the Mala.
Our collars are adjustable over 5 cm.
Available Sizes:
20-25 cm: 8-10 inches (XXS)
25-30 cm: 10-12 inches (XS)
30-35 cm: 12-14 inches (S)
35-40 cm: 14-16 inches (M)
40-45 cm: 16-18 inches (L)
45-50 cm: 18-20 inches (XL)
50-55 cm: 20-22 inches (XXL)
Bespoke: If you want a custom size or Mala, contact us at support@graceandgaia.com
It's important to always supervise your pet when they are wearing the Mala to ensure their safety and prevent any potential risks. Do not attach a leash to the Mala.
About us:
At Grace & Gaia, we believe in the power of love, connection, and positive energy. Our handmade pet Malas are more than just accessories; they are a heartfelt expression of devotion to the pets who fill our lives with boundless love.
Our commitment is to enhance the unique bond you share with your pets through purposeful, beautiful Malas, allowing them to experience the peace and love these special gifts bring, celebrating the affection they shower upon us daily.
All our pet Malas are hand-made in our workshop in London, England, to high standards, ensuring durability and strength. It's important to note that our Malas are made exclusively with natural gemstones, which might result in colour variations due to their natural state.
The interpretations and properties of the stones described come from the field of Lithotherapy and do not in any way replace medical treatment. For any medical problem, please consult your veterinarian.
Shipping:
At Grace & Gaia, each of our Malas is individually crafted upon receiving your order to ensure they're infused with intention and prayers for your specific pet. Every Mala is then charged with Reiki (energy healing) overnight before being dispatched. While we strive to process orders promptly, dispatch usually takes 2-3 days to ensure that your Mala is prepared with the utmost care and positive energy before it reaches your beloved pet's paws.
Share
View full details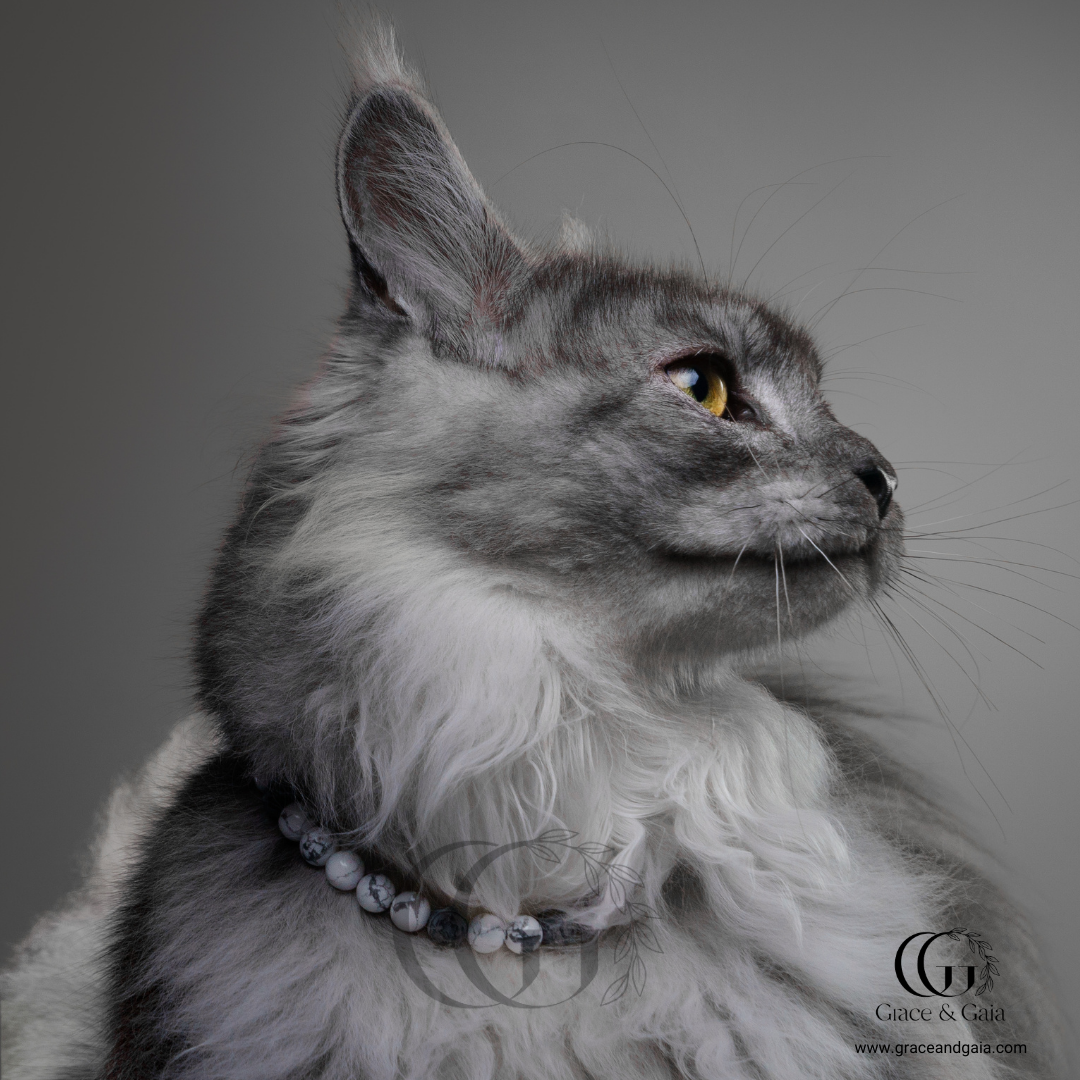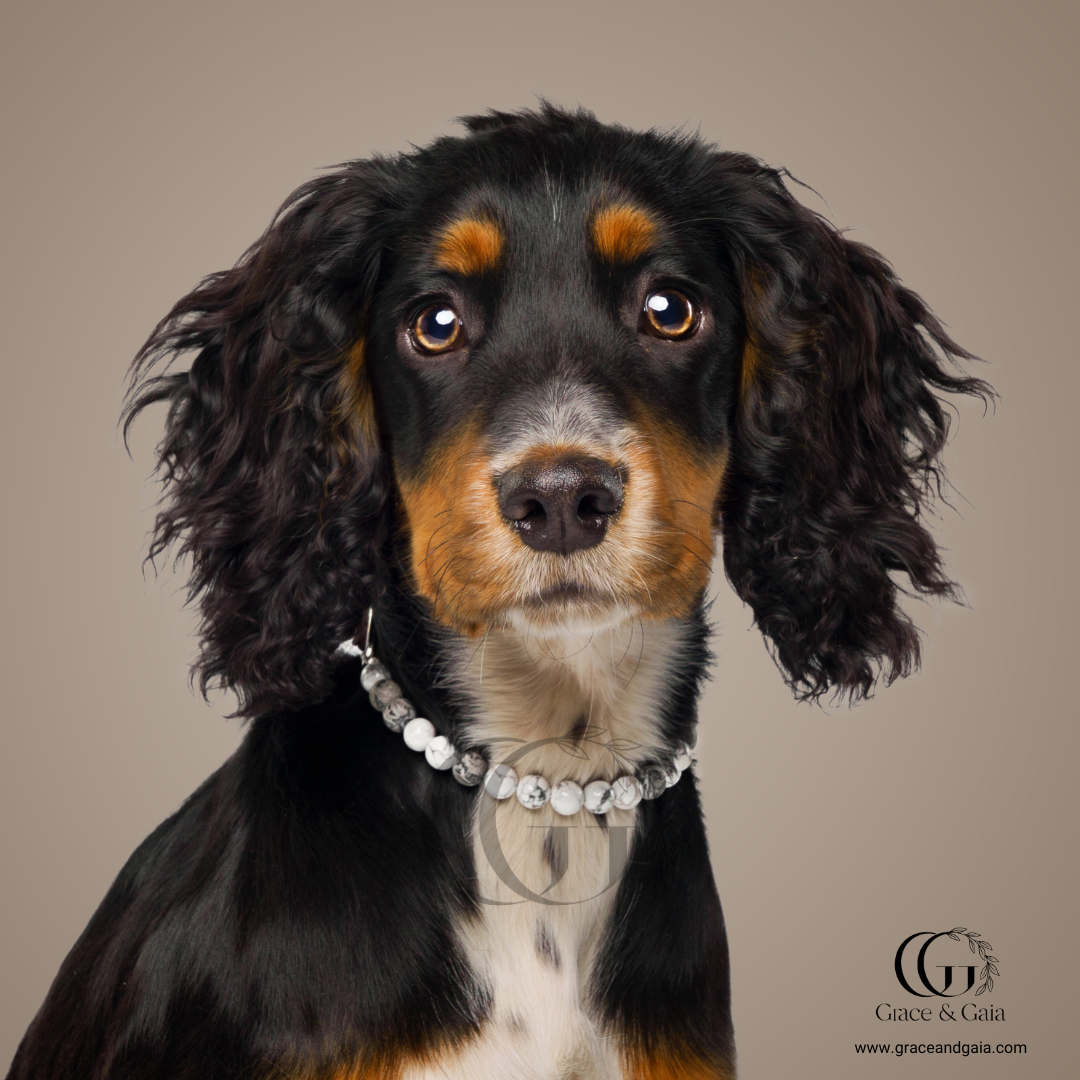 Elegant and Serene
Zara loves her necklace. She hates a collar but she doesnt have any problem having this necklace around her neck.
Stylish
The quality of these pet malas is exceptional. My dog looks stunning and seems to have an air of calmness. Highly recommended!
Let customers speak for us
Amazing!
Bought this for my friend's dog and she loved it. They are beautifully made and we loved the little cards and intention that came with it. Highly recommend.
Grace and Gaia
Exquisite and beautiful Mala
These Mala beads are so beautiful and well made. My dog is not used to wearing a collar as we usually only use a harness but he was super content and happy when we put the beads on him. I was so impressed with the craftsmanship and care that had clearly gone into making each piece. This is such a wonderful and unique idea for our fur babies!
Grace and Gaia
Not only aesthetically beautiful, but truly meaningful
Absolutely beautiful Mala beads which sat beautifully on our dog.
Grace and Gaia